CORALIE GIRO
Jumpline / SLACKLINE
Jumper Paris, internal medicine, which comes from the acrobatic gymnastics, she brings a feminine touch to the Jumpline. 2rd world championship on munich 2016
Size: 1m60
Age: 25 years old
Practice: Jumpline / Slackline
The word slackeur:
In reality I had tried the slackline three years ago but I could not hold on, and I rediscovered the summer of 2014. And I immediately hooked on the jump coming from the middle of the acrobatic gymanisque. And the longline is that very recently because I had to preserve my wrist and I had to jumper less to rest, but this allows me to relax more. For me the jump is to let off steam, and the long to control myself.
Where do you come from ?
From Paris.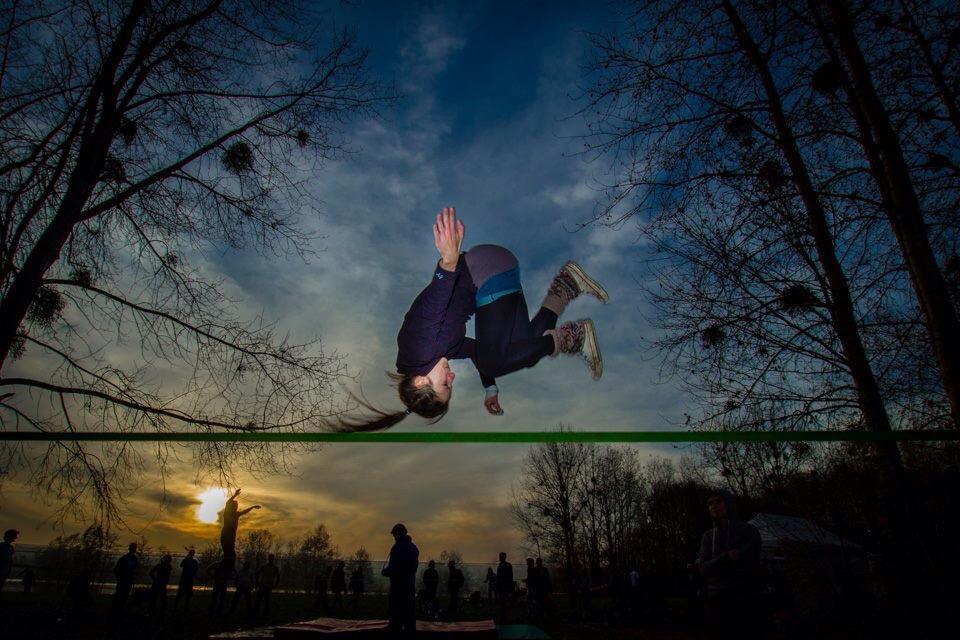 What made you choose slack mountain?
There are some who say that the jump is that for the boys, the team lacked daughter and I knew the material 
A phrase you often say?
Just a last try!
Your preferred spot?
The Pagoda of Vincenne because it seems to leave Paris and in addition I find there all slackers.
What are you listening to when you slack?
Along the electro, Worackls or N'to ...
An anecdote ?
From time to time in Paris we like to go out among friends with a slack and lay it all over, at a red light, in the metro, place of the bastille, objective quickly slacker because one must quickly disassemble.
Something in your fridge?
Coffee, dried tomatoes
The slack in a nutshell?
Relaxation.
What is your favorite strap at Slack Mountain?
La Wallaby, La jump is too good. 
What are your best performances?
In jump the Frontflip and Backflip
In longline 80 m.
What are your goals and plans for the future?
It is necessary that I pass 140m because I told a friend that I had to catch him and that when I see him again I could slacker the same lengths as him. In Jump out the Nasty and Spirals.